Lakeland
Stores
Shop
Best Sellers
the Lakeland guarantee
It's probably the simplest guarantee in the world! If you're not satisfied at any time, you receive your money back!
This is our promise.
Lakeland India
Lakeland, a British family owned company, is the home of creative kitchenware and much more besides. With over half a century of experience under our belts, we search the world for innovative products to make everyday life easier and more enjoyable, whether you're cooking, entertaining, doing the housework or searching for the perfect present.
The kitchen is the heart of the home, and we've put together an unrivalled collection of kitchenware to help you prepare, serve and store proper home-cooked food. You can find hundreds of our exciting products in our stores – many items are exclusive to Lakeland, and for added peace of mind, everything is backed by our no-quibble guarantee.
Stores
Pune
Tel: 020-66890364/ 66890365
Ground Floor
Phoenix Marketcity Pune
S No. 207,
Viman Nagar Road,
Pune 411 014
Bengaluru
Tel: 080-22067930/ 22067931
First Floor,
Westside Department Store
The Forum
No. 21, Hosur Road,
Bengaluru 560095
Bengaluru
Tel: 91 80 2558 5845
Ground Floor,
Westside, CMJ Prestige
Kamraj Road
Near Commercial Street
Bengaluru 560042
NEW ARRIVALS
Shop
CAST ALUMINIUM CASSEROLES

from 4799₨

BELLA COOK AND SERVE

7199₨

OXO POP CONTAINERS

from 649₨

LÉKUÉ MICROWAVE STEAM CASE

2499₨
Recipe of the month
lentil bolognese
lentil bolognese
LENTIL BOLOGNESE WITH
COURGETTE SPAGHETTI
Made using the Vegetable Spirali
See more recipes
Ingredients
FOR THE BOLOGNESE
1 tbsp olive oil
1 medium onion, peeled and finely chopped
1 clove garlic, crushed and chopped
1 medium carrot, peeled and finely diced
1 stick celery, finely chopped
100g button mushrooms, sliced
½ tsp sugar
1 tsp dried mixed herbs
1 bay leaf
100ml red wine or hot water
400g can chopped tomatoes
2 tbsp tomato purée
1 vegetable stock cube
410g can green lentils, drained
Salt and black pepper
FOR THE SPAGHETTI
4 medium courgettes, washed, dried and trimmed at both ends
Juice of ½ lemon
Salt and black pepper
FOR THE GARNISH
2 tbsp Parmesan cheese (or vegetarian/vegan alternative), grated
2 tbsp basil leaves, roughly chopped
Instructions
Heat the oil in a frypan, add the onion and garlic and fry gently for 5 minutes until softened. Add the carrot, celery and mushrooms and fry for a further 5 minutes.
Add the remaining ingredients except the lentils, cover and simmer gently for 15 minutes. Stir in the lentils and simmer for 10 minutes, then season and remove the bay leaf.
Insert the spiralizer blade with the largest triangles and spiralize the courgette. Separate the strands and trim to the desired length with scissors.
Bring a large pan of water to the boil and simmer the courgette spaghetti for 2 minutes. Drain, toss in lemon juice and season to taste. Add to the bolognese and stir gently.
Serve in warmed bowls topped with the reserved pine nuts and fresh basil leaves.
Tip: If you want the spaghetti to resemble pasta, peel the courgettes; but for more colour leave the skin on.
Don't miss...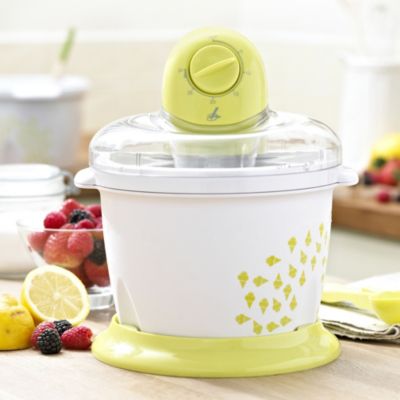 LAKELAND MY KITCHEN ICE CREAM MAKER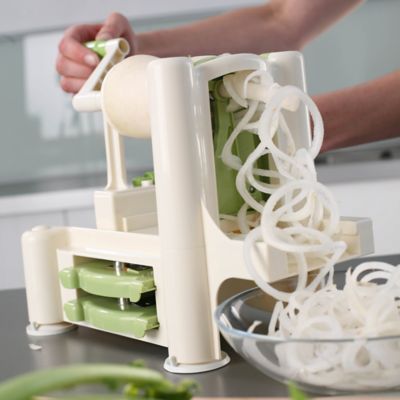 VEGETABLE
SPIRALIZER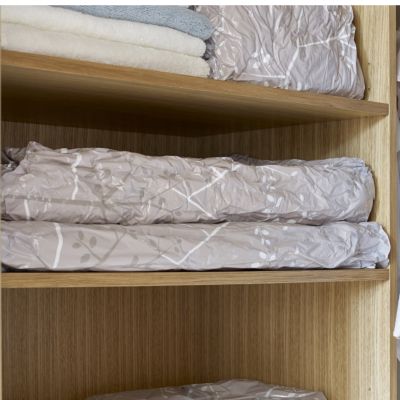 PACK-MATE® ANTI MOULD VAC BAGS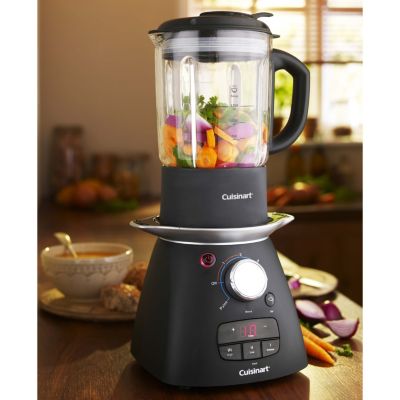 CUISINART® SOUP MAKER