Lakeland
Stores
Shop
Best Sellers
the Lakeland guarantee
It's probably the simplest guarantee in the world! If you're not satisfied at any time, you receive your money back!
This is our promise.
Lakeland India
Lakeland, a British family owned company, is the home of creative kitchenware and much more besides. With half a century of experience under our belts, we search the world for innovative products to make everyday life easier and more enjoyable, whether you're cooking, entertaining, doing the housework or searching for the perfect present.
The kitchen is the heart of the home, and we've put together an unrivalled collection of kitchenware to help you prepare, serve and store proper home-cooked food. You can find hundreds of our exciting products in our Pune and Bangalore stores – many items are exclusive to Lakeland, and for added peace of mind, everything is backed by our no-quibble guarantee.
Stores
Pune
Ground Floor
Phoenix Marketcity Pune
S No. 207,
Viman Nagar Road,
Pune 411 014
Bangalore
First Floor,
Westside Department Store
The Forum
No. 21, Hosur Road,
Bangalore 560095
Best Sellers
Shop
SWEET TREATS CAKE POP MAKER

2229₨

LAKELAND RAVIOLI MAKER

1849₨

LAKELAND DUO COLOUR ICING KIT

449₨

MY KITCHEN 12 CUP MINI SANDWICH TIN

2599₨
Recipe of the month
Mini Ginger Cakes
Mini Ginger Cakes
Mini Victoria Sponge Cakes
Made in the
My Kitchen 12 Cup Mini Sandwich Tin
See more dainty delights
Ingredients
Sponge
175g unsalted butter, at room temperature
175g caster sugar
3 large eggs, beaten
1 tsp vanilla extract
175g self-raising flour
Pinch of salt
Buttercream
150g unsalted butter at room temperature
300g icing sugar, sifted, plus extra for dusting
1 tsp vanilla extract
Filling
6-8 tsp raspberry or strawberry jam
Instructions
Preheat the oven to 150°C/300°F.
To make the cakes, cream the butter and caster sugar together until the mixture is pale and light. Gradually add the beaten eggs, mixing well between each addition and scraping down the sides of the bowl from time to time. Add the vanilla extract and mix again.
Sift the flour and salt into the bowl and fold in until the mixture is glossy and smooth.
Divide the mixture between the Mini Sandwich Tin and level with a teaspoon.
Bake on the middle shelf of the oven for about 15 minutes until golden, well risen and a wooden skewer inserted into the middle of one of the cakes comes out clean.
Leave the cakes to cool in the tin for 2 minutes and then ease out onto a wire cooling rack and leave until completely cool.
To make the buttercream, cream together the butter, icing sugar and vanilla extract until the mixture is pale and light. Transfer to a piping bag.
Cut each cake in half, and pipe the buttercream onto the bases, in dots (pipe one dot in the middle and the rest around the edge). Drizzle the jam over the buttercream dots, place the sponge tops on and lightly dust the cakes with icing sugar.
Featured products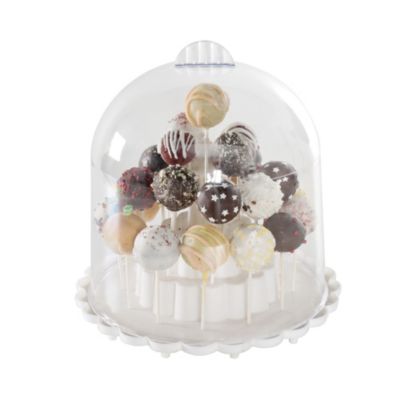 Cake Pop Display Stand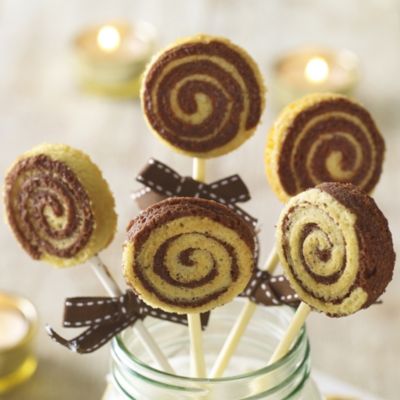 Lakeland Swirly Cake Pop Mould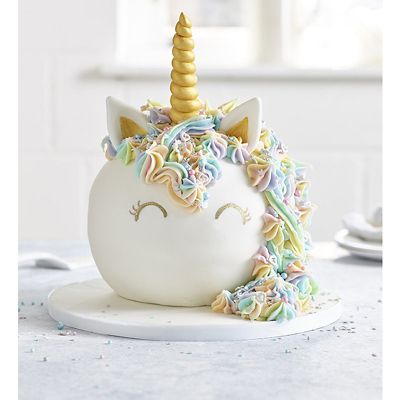 Hemisphere Cake Pans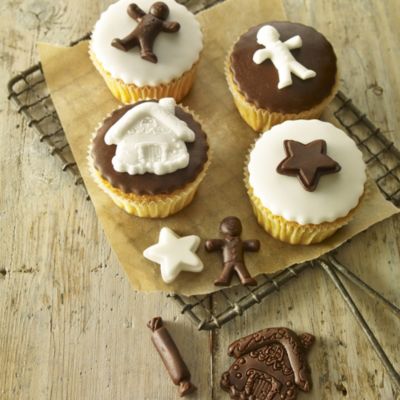 Silicone Bakeware Range